Prof. Dr. Volodymyr Ivanovych FEDIV
H-Index: 10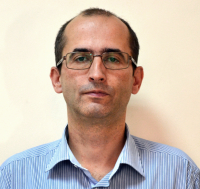 Bukovinian State Medical University, Chernivtsi, Ukraine
Position: Univ. Professor, Head of the Department of Biological Physics and Medical Informatics, Bukovinian State Medical University, Chernivtsi, Ukraine
Specialization: Colloidal semiconductor nanocrystals, Synthesis & Characterization polymer-nanoparticles nanocomposites, Biosensors

At the NANOCON´21 conference Prof. Fediv will present an invited lecture at the session C.

Personal Background and Education:
Volodymyr Ivanovych Fediv was born in Chernivsi, Ukraine in 1973. He graduated from the Physical Electronics and Engineering physics at Yuriy Fedkovych Chernivtsi National University, Ukraine, in 1994. In the same university he received the PhD degree in Physics of Semiconductors and Dielectrics in 2000 (Dissertation: "Magnetooptical effects in semimagnetic semiconductors on the base of mercury telluride"). And also in Yuriy Fedkovych Chernivtsi National University he received the degree of Doctor of Physical and Mathematical Sciences (Dr.Sci) in 2014 (Dissertation: "Fabrication, properties and application of nanomaterials based on semiconductors CdS, CdTe, ZnO").
Now he is a Professor, the Head of the Department of Biological Physics and Medical Informatics, Bukovinian State Medical University, Chernivtsi, Ukraine. He received the fellowship in Linkoping University (Sweden) in 2011.

Research Interests:
Research interests of Prof. Fediv are focused on the synthesis, functionalization of colloidal nanoparticles and formation of nanocomposites, investigation of their optical, electrical, magnetic and structural properties as well as their application in sensors and for bio-labeling.
Organic-inorganic composites based on quantum dots of variable sizes, shapes and compositions are synthesized and used as working elements of various sensors and for the visualization of biological structures.

Publication activity:
Examples of works: